Bio: Actor Santa Larry Jefferson:
Santa Larry Jefferson, a native of Nashville, Arkansas, is a retired member of the U.S. Army & Texas Workforce Commission, who has become internationally known as "Santa Larry."
Jefferson found himself in headlines around the world after becoming the first black Santa ever hired at the Mall of America in Minneapolis, MN in 2016.
Jefferson bills himself as a Santa for all people and wants to spread holiday spirit and holiday cheer all over the world. For the past several years, he has appeared as Santa at corporate events, home and office parties, military events and hundreds of special events around the country.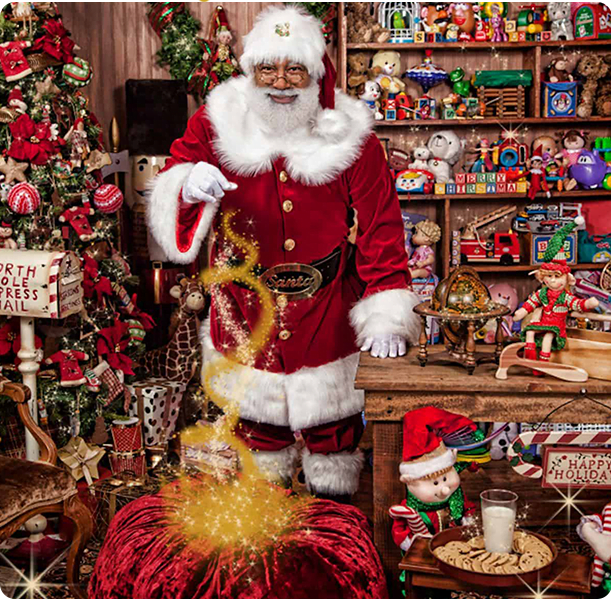 Why? He just loves Christmas and as he says, "I carry Christmas in my heart every day."
Last year, Jefferson retired from the Texas Workforce Commission as a Program Manager, Special Projects Manager & Office Manager where he helped / oversee thousands of individuals find jobs, offering tips on interviews, cover letters, resumes & career transition during their overall job search. He is also retired U.S. Veteran, Retired Army/Army Reserves Captain, served in Desert Sheild/Desert Storm, Supported Iraqi Freedom, Served in Kuwait & Afghanistan.  Mr. Jefferson is a graduate Henderson State University where he received His B.A. in Sociology & a graduate of Santa University in Denver, CO.
He is a Member of Alpha Phi Alpha Fraternity Inc, via Theta Kappa Chapter Spring of 1983 & Pi Nu Lambda Graduate Chapter Little Rock, Ar /Arkadelphia, AR.
Santa Larry currently calls North Texas home in Irving, Texas
Santa Larry has been featured on the following: Steve Harvey Show, MS NBC Universal ~ AM JOY with Joy Reid, The Daily Show; CBS Sunday Morning Show, Tom Joyner Morning Show, Radio One with Roland Martin , KMOJ 89.9 FM and NPR (National Public Radio)
He is a member of the Lone Star Santas , a graduate of Santa University, Denver, CO; Santa & The Business Of Being Santa(SATBOBS) graduate; Henderson State University, Arkadelphia, AR with a B.A. Degree in Sociology. Santa Larry enjoys bringing in the "Holiday Spirit & Holiday Cheer" to your home, office, and special events. He is available for events across the states to include: Dallas-Ft. Worth, TX Metroplex,- Minneapolis, MN – St. Louis, MO – Little Rock, AR – Birmingham, AL- Memphis, TN – Los Angeles, CA – Las Vegas, NV – Shreveport, LA – New Orleans, LA – Texarkana, Ar/Tx – Tyler, Tx
If you are looking for an amazing Santa who will bring the holiday cheer to your party or event, he is available for parties in Dallas-Ft. Worth Metroplex and surrounding areas. There are discounts provided for certain weekdays as well as some weekends.
Invite Santa Larry to bring the magic and joy of Christmas to your family or business event this year.